This Oil Mill Machine is combined the advantages of 95 type with 100 type oil mill machine, and the main characteristics of improvement is one of energy-saving, motor 7.5 KW. Oil Mill equipment's the advanced machinery in oil processing machinery, the structure is simple, easy to operate, the characteristic of high adaptability is strong and continuous operation, etc. For all kinds of plants, such as: peanut oil, soybean, rapeseed, cottonseed, sesame, olives, kwai seeds, coconut, cacao plant oils are squeezing, applicable to small and medium-sized oil press factory and individual professional use, also can be used to squeeze the leaching suitavle.
Advantages of this Oil Mill Machine:
For the Labor - the same output can save 60% of labor, 1 to 2 people can organize production, labor costs can be saved a lot.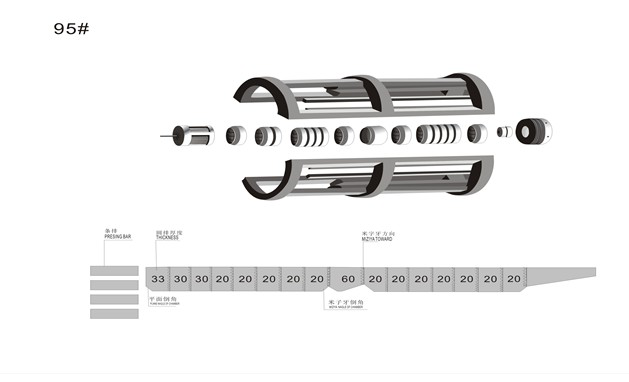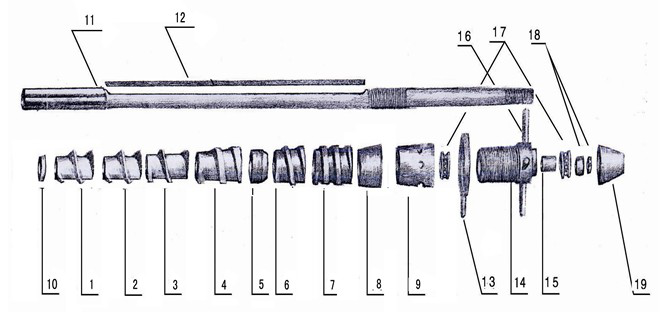 | | | | | | | | |
| --- | --- | --- | --- | --- | --- | --- | --- |
| Number | Name | Size | Qty; per; set | Number | Name | Size | Qty; per; set |
| 1 | Worm; No.1 | 110mm; | 1 | 12 | Long; Flat; Key | | 1 |
| 2 | Worm; No.2 | 110mm | 1 | 13 | Tight; Nut | | 1 |
| 3 | Worm; No.3 | 115mm | 1 | 14 | Adjusting; Nut | | 1 |
| 4 | Worm; No.4 | 129mm | 1 | 15 | Adjusting; Bolt; Bush | | 2 |
| 5 | Worm; No.5 | 50mm | 1 | 16 | Bing; Handle | | 4 |
| 6 | Worm; No.6 | 75mm | 1 | 17 | Bearing; 8309 | | 2 |
| 7 | Worm; No.7 | 75mm | 1 | 18 | End; Nut | | 2 |
| 8 | Cake; guide; ring | 75mm | 1 | 19 | Safe; cover | | 1 |
| 9 | Press ;Nut | | 1 | | Square; Rods | | 16 |
| 10 | Intermediate; Ring | | 1 | | Square; rod; holder | | 1 |
| 11 | Press; Shaft | | 1 | | | | |