We manufacture canola (rapeseed) oil pressing, extraction and refining machines used for oil mill plants.The product and service mainly applied to build (or update milling machinery) large capacity automatic edible oil processing production line projects.
Canola (rapeseed) oil press machine for small business individual workshops or small scale oil mill plants:
Canola oil processing method recommended:
Prepressing--pressing--Refining (low cost, medium capacity less than 20 tons per day, refining process optional)

Prepressing--extraction--refining (super large capasity no less than 50 tons per day)
Based on clients' requirement (e.g.capasity/seeds type etc), we can propose an optimal solution of main equipment composition and a customized plant layout design.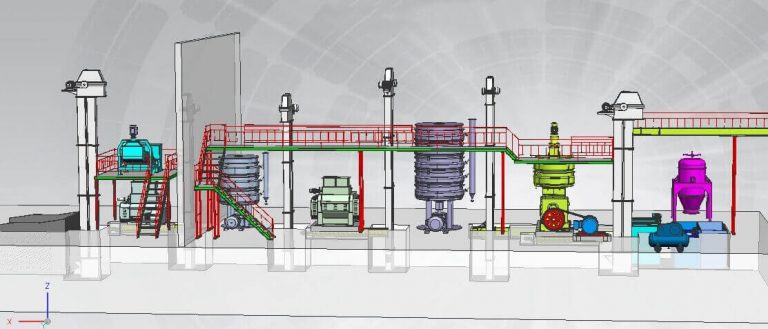 Above is the design for one of domestic client, objective is 150 tons per day for canola crushing and pressing.This automatic line includes pretreatment (cleaning,dehulling,flaking) 1 set, crushing machine 2 sets, cooking roaster 2 sets, expeller 1 set,blade vibration filter 1 set.
For canola oil extraction and refining, please contact us, or see the documentation and pdf files in details.
We're a professional verified supplier & manufacturer for industrial use oil press machines, we welcome clients worldwide contact us.Please kindly specify your requirements so that we can provide a best proposal and quote for your oil mill production project.Thanks!
Canola oil pressing (extraction) machine list
Canola (rapeseed) seed processing pre-treament machines:
Seed cleaning machines(de-stoner, maganetic drum, vibration sieve)

Oilseed flaking machine

Oilseed roasting machine(softening conditioning and cooking)
Canola oil expeller pressing (pre-pressing) machines :
Model YZY290 suggested to two time pre-pressing and pressing high oil content oilseed types, e.g.sunflower seed, peanut, cottonseed etc.
Canola oil filter machines/edible oil leaching equipments
Vertical leaf blade vibration filter machine

Frame Oil Filter Press Machines
Canola oil extraction machine set/Equipments:
Rotocel Extractor Machine (other types optional: loop type/towelline/drag chain/irragation group)

Desolventizer machine sets(Toaster/Dryer/Cooler)

Oil mixture filter machine set (Immersion vapor degreaser set, stripping towers)

Extraction solvent recovery set (condenser, gravity water separator, water-boiling tank, tail gas treatment)
Canola oil refining machine set:
Degumming

Deacidification

Decolorization

Deodorization
Note:Different from commercial cold oil press machines for individual kitchen use, above equipment is mainly used for industrial large capasity edible oil processing automatic production lines in oil mill plants.No less than 50 tons per day.
Small capacity edible oil processing machines please see below:
Please see more information (pdf files click the links) in details in our company catalogue as below:
Documentations & Media
Oil press machine installation application for clients oil mill projects ( pdf file link as below)
Please click here to open it in new window.
Factory manufacturing on scene video
Please see more in our video channel. Thanks for watching!
https://www.youtube.com/channel/UCVw6LGboFcyZgW8hqd5J1ew
Company Contact Details:
Hebei HuiPin Machinery Co.,Ltd
Dingzhou Yongsheng Grain and Oil Machinery Co.,Ltd
· Beituan Village, Dingzhou Town,Hebei Province, China 073000
· Tel:+0086 312-2727088
· Fax: 86-312-2621678
· Skype/Email:okoilpress@hotmail.com


Company Location(Blue Star):
Our company is 200 kilometers west to Tianjin (or Beijing) airport, about 3 hours trip to factory by car. Clients please contact us in advance so that we can pick you up at the airport.