Palm Oil and Palm Kernel Oil Processing Line, Palm Oil Mill, Palm Oil Processing Plant, Palm Oil Extraction Plant, Palm Kernel Oil Extraction, Palm Oil Production Process
Palm fruit oil and palm kernel oil is characterized by two extraction method, that is, first extract the oil from the nucleolus and then press the oil from the kernel.
Whole process of the palm oil and palm kernel oil flow chart: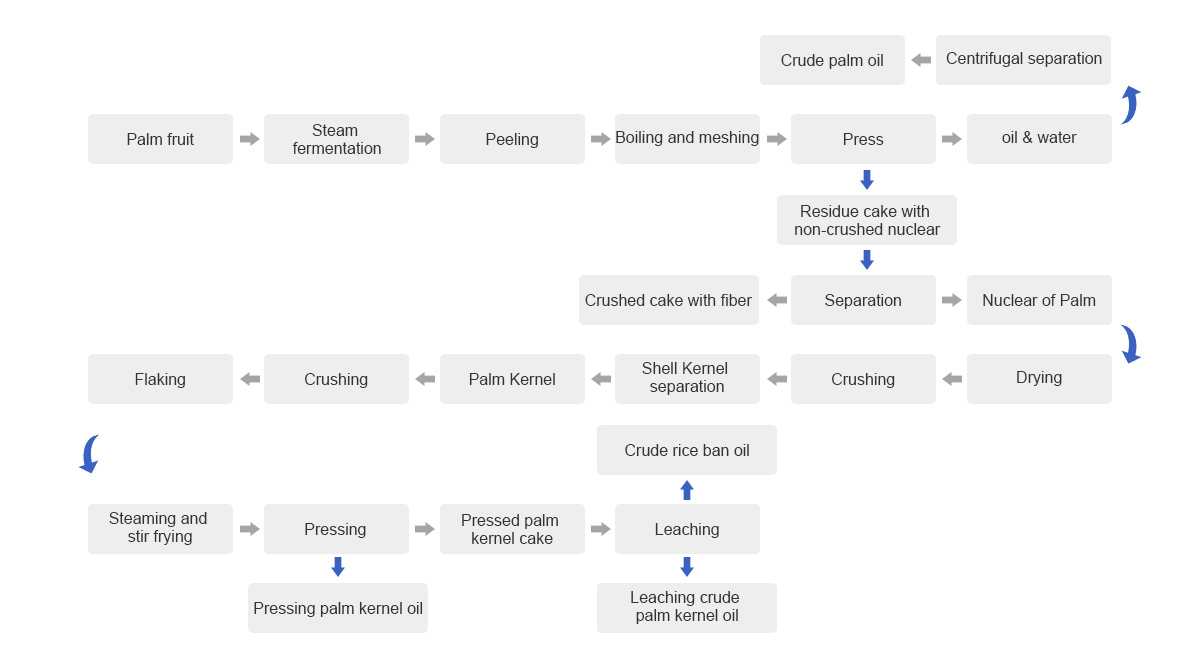 Operating Highlights:
1. Fresh water, high temperature and easy to enzymatic hydrolysis, in order to prevent oil hydrolysis rancidity, peeling in the former must be used in a large pot of steam for about half an hour to kill the enzyme, in time to inhibit the enzyme to increase acid prices.
2. The mechanical crushing of oil palm fruit pressing oil, using a special screw press. The main features require special pressing in the flesh of the grease and retain the palm kernel is not broken.
3. The separation of the fiber from the core cake is done by vibration screening and wind separation. Separate the palm kernel to dry, broken.
4. The broken brown nucleus in the washing tank using the principle of water-swirl will be the difference between the density of the shell and the effective separation of the larger (the traditional also made mud water separation will be more effective, but increased mud cleaning difficulty).
5. Follow-up steaming, pressing or pre-pressing - leaching process requirements and the same routine.
Challenge Maximum uptime while constantly improving your process.
Downtime is a costly business. To keep your operation up and running, a professional partner with the know-how to service your equipment and systems plus a reliable supply of spare parts are essential.
Solution: 24/7 service
Dingzhou Yongsheng Part & Service staff helps optimize and keep your operations on-line throughout the life-time of the equipment.We are trying the shortest delivery time for spare parts ensure .
We take care of your service needs at our workshops or at your mill. Contact us 24/7 for technical assistance or a visit by a field service engineer. Our service include system trouble shooting, retrofits, repairs, hands-on staff training and site audits.